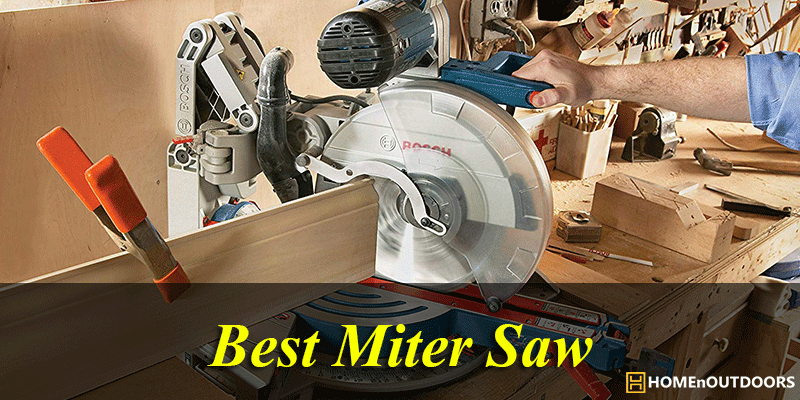 Top 10 Best Miter Saw – Check 2023 Reviews
Tools are an important part of our lives. Whether you are a DIY lover, own a workshop or love doing some home improvement projects, having the best miter saw can make your work easier. This is a versatile tool that is used to make almost any type of cut. Having a quality miter saw will make cutting wood accurate and efficient.
If you have use a standard miter saw as like as standard bow saw, you know that it can be tough to get precise cuts. This is why you should invest your money on a quality saw that works well and meets your needs. But how are you going to select the most suitable miter saw on the market today?
Miter saws come in different types so you can be easily confused when selecting the best. They vary in terms of features, price, and performance among other things. To help you select a quality saw that for woodworking task, we have researched and reviewed top ten best miter saws that are lightweight and easy to use. After going through our detailed reviews and guide, I'm sure you will find a saw that matches your requirements.
10 Best Miter Saw in 2023 - Comparison
| | | | | |
| --- | --- | --- | --- | --- |
| | | | | |
| | | | | |
| | | | 20.7 x 16.5 x 13.7 inches | |
| | | | | |
| | | | 21.5 x 17.7 x 17.1 inches | |
| | | | 21.5 x 18.1 x 22.9 inches | |
| | | | | |
| | | | 30.8 x 22.8 x 19.5 inches | |
| | | | | |
| | | | | |
Top 10 Best Miter Saw in 2023 - Reviews
It doesn't matter the type of miter saw that you are looking, you can find one in our top reviews. We have covered quality tools that are not only durable but also affordable. With any of these miter saws, you can be sure of precise and accurate cuts.
DEWALT has been the leading producer of miter saws and other quality tools for so many years. Their tools work well and are designed with the needs of the customer in mind. If you need top notch miter saw for your carpentry or workshop, you can get the DEWALT DWS779 sliding compound miter saw.
This saw features a powerful 15 amp motor that provides ample power that is needed to cut through different materials. The motor has a speed of 3800 RPM so you can be sure of an extended power and durability. The saw is designed with an integrated cutline positioning system that gives adjustment free cut line indicator leading to great visibility and accuracy.
To provide you with improved capacity and precision, the saw features a back fence design that provides you with capacity especially if you are using the saw for professional purposes. Its fall sliding fences can support crown molding up to 71/2 inches as well as base molding of up to 6 ¾ vertically against the fence.
To keep your working environment clean, the saw is designed with an efficient dust collection system that can hold up to 75% of all the dust that is generated.
Reasons To Buy This
Improve your accuracy and productivity with the DEWALT Miter Saw. This tool is equipped with a 15-amp motor that operates at a speed of 3800 rpm to provide exceptional power and durability. The 12-inch double bevel compound miter saw has an LED work light system that offers cut line indication for visibility and accuracy.
The miter saw features stainless steel miter detent plate equipped with 14 positive stops and a cam miter lock to give you repeated durability and precision with only easy adjustments. It has tall sliding fences that support 6-1/2-inch base molding on vertical mode and 6-5/8-inch crown molding vertically.
If you need a lightweight tool that is easy to carry, this one features a built-in carry handle to meet your portability needs. the tools also keep your workplace clean because it is equipped with a high-efficiency dust collection system that collects maximum dust from your projects.
This is the best sliding compound miter saw double-bevel with a design that makes it bevel 0 degrees to 48 degrees to the left and right. It has positive stops at 0, 22.5, 33.9, and 45 degrees. The tools also provide 0-50 degrees right and left miter capacity. This makes it the best miter saw for furniture making.
If you need the best miter saw for woodshop, this one will be great. It comes with other essential miter saw accessories like a vertical clamp, 12-inch carbide-tipped blade, dust bag, and a wrench. It also features a cam lock miter handle with detent override to provide quick and precise miter adjustments.
Reasons To Buy This
There are so many tools that you can use to cut wood and other materials. However, not all of them provide cutting accuracy and precision. If you need to cut smooth and accurate cuts, then having a miter saw can be a great idea. In this case, I would recommend the Hitachi C10FCE2 15-Amp.
This is a great tool for framers, carpenters or woodworkers who are in to great reliability and precision when doing their work. As compared to other miter saws that you will find on the market, this is the lightest and most portable miter saw that you can find.
One of the key features of this miter saw is the positive miter stops that give you the chance to pick preset points and certain angles. It also provides 45 degree bevel angle so you can adjust to the left to get accurate cuts.
Using the saw is simple because it is designed with an elastomer grip. It also features a comfortable horizontal handle with reduced vibration to offer you with control all the times.
Reasons To Buy This
If you are planning to buy a new miter saw for your wood working tasks, Bosch Compound Miter Saw works well when it comes to giving a smooth cutting motion. The saw has a space saving design so it will not take much space.
This is one of the most precise saws that you can work with. It features a pre-aligned squarelock fence that works well in maintaining the precision of the saw always. The saw also features an axial glide system that offers a durable precision and effective control when you are cutting.
This versatile miter saw is adjustable and features a large bevel that is easy to read. Additionally, it has stainless steel miter scales that have marked detents as well as roof pitch angles.
When it comes to the durability, you can be sure that investing in this saw will provide you with many years of use. It is suitable for different types of cuts and made to handle all the rigors that are experienced in the job sit. With its high visibility scale and simple angle adjustment, it is easy to see and use the tool in any jobsite condition.
Reasons To Buy This
If you want to make cutting wood materials easy and efficient, you need to invest your money in the best miter saw. DEWALT DWS780 is yet another quality tool from Dewalt with a 15 amp motor with a power of up to 3800 rpm. The saw offers a more power to handle tough tasks without compromising its durability.
If you like transporting your miter saw from one location to the other, you will find it easy because it has a handle design that offers maximum portability. The saw features an integrated XPS cross cut positioning system that helps in adjusting the free accurate line indication.
Having this miter saw provides you with ultimate durability. It is designed with rugged guard, tough stainless steel miter detent material and other components that can withstand daily rigors from your work environment.
Another great thing that you will enjoy with this miter saw is the high capacity cutting. It can hold crown molding of up to 7 ½ inches and base molding for up to 6 ¾ vertically. For a hassle-free operation, the miter saw can bevel from 0-49 degrees offering positive stops at 0, 22.5, 33.9, 45 and 49 degrees both right and left.
Reasons To Buy This
There are a wide range of miter saws on the market so you need to be careful when you are making your purchase to end up with the right one. One of the most recommendable miter saws that I would advise you to buy is the Hitachi C10FCG 15-Amp.
This is a lightweight miter saw that provides you with easy transportation. It has a 15 amp motor that has a no-load speed of up to 5000 RPM which makes it ideal for making crosscuts and miter cuts without any issues.
It provides a bevel range of 0-45 degrees to the left so you can be sure to get clean and accurate cuts. This miter saw is suitable if you are a woodworker who wants to achieve precision and versatility when doing your job.
Unlike other ordinary miter saws, this model is designed with a large table that provides effective material support. It also comes with a dust collector attachment that holds dust to prevent airborne particles.
Reasons To Buy This
When you are searching for a miter saw, you need a convenient tool that you can work with and achieve precise cuts. Having a heavy tool can compromise your performance. One of the lightest miter saws that I would recommend you to check is the Homecraft H26-260L.
The saw is suitable for users who move from one place to the other or from one job to the next. It is features a lightweight design which makes portability easy. The great thing about this tool is the fact that it can work well with almost all miter saw stands.
When you are using the saw, you will love the ergonomic handle that provides a safe and good operation. The saw is also designed with a spindle lock that can hold spindle securely when the blade nut is lose and removed.
The miter saw has a battery operated on/ off switch that makes aligning your blade easier to the workpiece. It also features an arbor lock to keep the blade in position when you are changing the blade.
Reasons To Buy This
Durability and accuracy should be one of your major concerns when you are looking for a miter saw. What if I told you that DEWALT DWS709 Slide Compound Miter Saw provides you with all that and much more?
This is a powerful miter saw with a 15 amp motor and 3800 rpm to give you more power to handle your tasks and much more. The package includes the miter saw, blade wrench, carbide blade, dust bag, material clamp and user's guide.
Apart from the durability, another thing that you will love about this miter saw is its portability. You can easily transport the saw from one location to the other without ease. It features a heavy duty aluminum base to offer strength and rigidity.
The saw can miter from 60 degrees right and 50 degrees left to give you more capacity. Additionally, the saw features an oversized bevel scale for accurate and easy bevel angle adjustment.
Reasons To Buy This
Upgrade your cutting tools with the Makita LS1018 10-Inch miter saw. The saw provides you with a large cutting capacity and accuracy that you need when doing your cutting tasks.
The saw is powered by a 13 amp motor that has a soft start. Unlike other miter saws, you can achieve smoother start-ups, consistent power and you don't have belts to replace. The saw is also designed with an electric brake that gives you more convenience when working.
A good saw should offer you with comfort when you are using it. This is why this one is designed with an ergonomic rubberized D-handle that provides you with a good fit and comfort.
The saw also features a large precision machined aluminum base that supports the material to give more effect cuts. You can also achieve a better visibility, thanks to the see-through blade guard.
Reasons To Buy This
Just like a cannabis indoor grower cannot do without the best inline fan, a woodworker also need the right miter saws. The WEN 70716 10-Inch is one of the best tools on the market that provides you with versatility that you need.
With this compound miter saw, it is easy to make straight, bevel, miter and compound cuts all in one machine. This means that you don't have to buy different types of saws to make varying cuts. The saw allows you to bevel anywhere from 0-45 degrees to the left and it can miter up to 52 degrees in either directions.
With 15 amp and power of 5500RPM, this saw can handle tough cutting tasks. It is capable of cutting through tackle boards with a thickness of 3.25 inches. You will also enjoy a spacious work table that can hold boards up to 11.5 inches in depth.
To prevent you from doing post saw cleaning, the saw is equipped with a dust collection bag that prevents the dust from accumulating on the parts of the saw. It also features a carrying handle for hassle-free transportation.
Reasons To Buy This
How To Choose The Best Miter Saw in 2023
What are some of the major considerations that you should make when buying a miter saw? If you want to end up with a reliable tool that will give you the best performance, make sure you go through these essential tips.
Precision
One of the major factors that you should consider when buying a miter saw is the precision. There are several factors that affect precision which include the scales, fence support and the solid angle presets. Other miter saws also have a laser guide to give you the best precision.
Available Space
Another great thing that you should think about when buying a miter saw is the amount of space that have in your workshop. You don't want to buy a large tool only to find out that it will not fit the available space. Make sure that you take the measurements of the space available so that you can buy a miter saw that will fit in the area perfectly.
Power
Before you buy a miter saw, you must consider the amount of power that the tool has. You want a powerful tool that can handle even the toughest jobs. A good miter saw should have a power of between 10-15 amps if you want to get the best performance. Apart from that, you also want to keep in mind the maximum RPM that the motor can offer. This is important because it determines how smooth your cuts will be.
Dust Collection System
When you are working with a miter saw, you understand that they produce some dust. If you don't want dust to get in the inner parts of the saw which can be hard to clean, you can consider a saw that comes with a dust collection system.
Safety
Miter saws can be dangerous tools especially if safety is not a major consideration. It is important to look for a miter saw that has a blade guard so that it doesn't expose the blade when the tool is working. Other safety features that you should take into consideration include electric brakes and fence guards.
Price
It is also great to consider the price of the tool. Miter saws come in different price tags based on their features, specification and performance. The most important thing that you should do is to look for a miter saw that has the features that you want and is within your budget needs.
Size of Blade
The size of the blade has a significant effect on the cutting capacity. A 10 inch miter saw cab cut baseboard with a thickness of 31/2 inches. A larger 12 inch miter saw can cut baseboards with a thickness of up to 6 ¾.
Frequently Asked Questions
Q: What is the best miter saw for home use?
A: If you need the best miter saw for homeowner, look for a saw with blade size 10 or 12-inches. The type of saw you pick will depend on your projects. For instance, if you plan to make frequent cuts, a 12-inch miter saw will be better than a 10-inch miter saw.
Q: What is the most accurate miter saw?
A: The most accurate compound miter saws come from top brands like Dewalt, Makita, and Festool just to mention a few. These brands provide tools with amazing features to promote accurate cutting. They also have a powerful 15-amp motor and other safety features like a guard system.
Q: Is a 10 or 12-inch miter saw better?
A: When it comes to miter saws, you might be confused about whether to choose a 10 or 12-inch miter saw. 10-inch miter saws rotate faster than 12-inch tools which provide smooth cuts. If the two saws are powered by equal motors, the RPM will be higher in 10-inch saws leading to fine finishes.
Q: What is a disadvantage of using a miter saw?
A: There are many benefits that you will get when using a miter saw. It doesn't matter if it is a dual bevel or single bevel miter saw. The best miter saw for small shop allow you to make various types of angle cuts regardless of the material. They offer smooth and precise cuts on all your projects.
The above is our run down of the best miter saws that you can find on the market this year. We researched and tested quality saws from top brands and they all give accurate and precise cuts. Whether you are a carpenter, a woodworker, framer or DIY enthusiast, you can enjoy cutting different types of materials when you have any of the above miter saws. But when you are making the right decision on the miter saw to buy, make sure that you weigh your needs and budget as well.
As a homeowner, sometimes you can find yourself doing some home renovation projects that require you to use a miter saw. You can check out the features that you want in a saw and then select the most suitable saw from the top reviews to meet your needs.
Yes
Each of the above miter saws has unique features that make them different from each other. So, it is crucial to compare their features so that you can make the right decision when you are buying a miter saw. You will find that some saws are portable, heavier, lightweight, and large among other differentiating factors. The best thing that you can do is to pick a reliable saw that will meet your needs.
I hope you have found our top reviews great and resourceful. We tried as much as possible to make your work easier by giving you top rated miter saws all in one place. This will help you get a professional woodworking tool that will serve you for many years.
Moreover, if you want to know about related product then you can check these products are best miter saw 2023, best miter saw for homeowner, best miter saws reviews, miter saw reviews etc Indeed !!