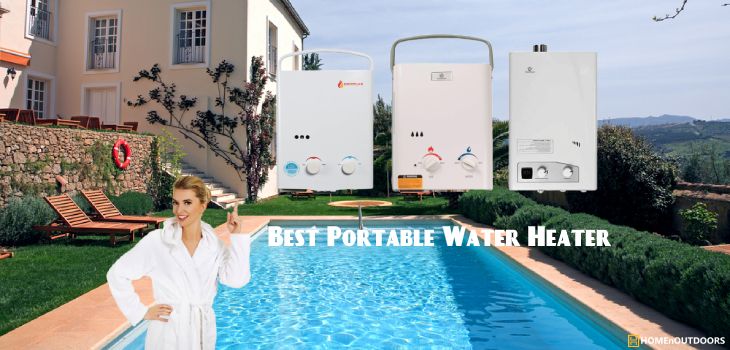 10 Best Portable Water Heater Reviews 2021 – Guide & Comparison
The invention of the best portable water heater or portable water warmer has revolutionized camping and other outdoor activities. I remember when I was a kid I used to dread our annual family camping trip. That early morning cold shower used to send chills down my spine. I wish we had the modern portable water heaters we have today.
With these heaters, you get instant hot water supply. No more leaving the tap running and wasting water as you wait for it to heat up. Remember when the first person in the shower would use up all the hot water? Well, these modern portable heaters deliver from 1.5 gallons to over 5 gallons of hot water continuously. If you have a big family you can now all have your morning outdoor showers in peace.
Aside from just showers, these outdoor water heaters come with the option of attaching a hoe. This will enable you to get to perform a large number of tasks like doing laundry, washing your pets or even filling an outdoor pool. Let's get into the details of top portable water heaters 2021.
| | | | | |
| --- | --- | --- | --- | --- |
| | | | | |
| | | | Artificial hardened steel | |
| | | | | |
| | | | | |
| | | | | |
| | | | | |
| | | | | |
| | | | | |
| | | | | |
| | | | | |
10 Best Portable Water Heater in 2021 - Reviews
1.

Camp Chef HWD5 Triton Water Heater
This is a great heater for camping and outdoor activities. It can stand on its own but it comes with brackets that you can use to hang it. With an adjustable heat level and water flow, it offers flexible outdoor use.
Aside from just showering, you can attach a garden hose and use it to perform a wide array of other tasks. It comes with an eight-foot hose to allow you to do just that. Once it is turned on the hot water start to flow immediately and it produces 1/2 gallons of water per minute.
The shower head has four different settings that you can choose. These settings include normal shower, jet, and mist and offsetting.
The least water flow it can produce is 0.5 gallons per minute. It's powered by a 20-pound propane tank. However, this has to be bought separately. This propane tank can operate continuously for hours. When operating the heater, it is recommended that one opens the propane tank very slowly before turning on the source of water.
The triton water heater requires some pressure for proper flow of water, operating with an optimum pressure of 80 PSI and a minimum pressure of about 25 PSI. Also, 2D batteries are required for ignition.
When you need to transport the heater, this triton portable water heater is easy because it has carry handles. It also folds down making transportation and storage easy. That is its look like best portable hot water heater also. Not only that it is portable propane hot water heater for camping no doubt.
Pros
Cons
2.

Eccotemp L10 Portable Water Heater
This outdoor heater comes with a stainless steel raincap, a hose and regulator. Safety is assured with this heater because it is designed with an automatic shut off system that has a timer for 20 minutes.
When you are camping this outdoor water heater will offer the perfect hot shower. You can also wash your pets, car and other items.
It uses a 2D battery to ignite the heater and a liquid propane tank as its source of power. It delivers hot water at a rate of 2.6 gallons per minute.For safety reasons, it requires the tank to be kept at least 1 inch away from flammable items on both sides.
Therefore this heater is recommended for outdoor use only. Operating with a water pressure of about 25 to 80 PSI. It has two knobs that can control water temperature and water pressure. Moreover,it is also portable water heater or hot water heater portable for camping no doubt about it. Finally this camping hot water system reviews or portable heater reviews help to pick the perfect one as soon as possible no doubt.
Pros
Cons
3.

Camp Chef Triton 10L Portable Water Heater
The Camp Chef is designed to automatically give hot water when turned on. You are able to easily adjust the flow of water and the temperature however you want.
With three shower settings of off, mist, shower and jet, it feels just like your normal indoor home shower. You just need to set the right mode that you want.
Having a high capacity of 2.6 gallons of water per minute, this heater offers flexible use for a number of outdoor activities.
You can even use it fill an outdoor pool using a water hose. This heater comes with its own 8-foot hose and a brass garden hose connector.
It uses 2 D batteries for ignition with propane as its power source and can carry up to 10 liters of water. You can hang it outside your house using brackets that come attached to the heater.
Another great thing is that it has three shower settings for you to choose from. This is jet, normal shower, mist and off. So no doubt this triton tankless water heaters is portable hot water on demand.Moreover, this portable tankless water heaters reviews help to pick the best one soon.
Pros
Cons
4.

Camplux 5L 1.32 GPM Portable Water Heater
This Camplux water heater uses propane gas to heat the water. Hot water flow is instant once you turn on the heater.
Additionally, it can be connected to a garden hose and it comes with two garden hose of one and a half inches. One of the hoses is female while the other is male.
The water heater requires very low water pressure to operate at about 0.4 PSI. The flow of water is also adjustable. 2D lithium ion batteries that are environmentally friendly operate the ignition.
The water capacity of this heater is 5 liters with a flow of 1.32 gallons per minute. Designed with an oxygen depletion sensor, this heater is, therefore, suitable for use indoors. However, ensure that the room where it is to be used is well ventilated for proper air circulation.
If you want a compact water heater, try this one. Its size is compact featuring a folding handle. This makes it convenient for use outdoors.
Finally, operating this outdoor hot water heater or portable water heater is easy. All you need to do is to install the water on the wall, make the necessary connections as instructed in the manual and you can enjoy instant hot water. So this is also perform as like portable shower water heater or portable hot water heaters no doubt.
Pros
Cons
5.

ZODI Outback Gear Extreme SC Hot Shower
This is a unique water heater with cylindrical design and wide array of features. The outer stainless steel cover ensures durability and protection from rust. It comes with added accessories such as a bag to store the heater and a stove. Therefore you get more value for your money.
It has an environmentally friendly design that uses a pump at the top of the tank instead of batteries to pressurize the water.
The outback also uses a BTU Burner to heat the water. Water is heated up to 100 degrees Fahrenheit in 5 to 10 minutes.
On its surface is a temperature strip that acts as a thermometer and displays the current water temperature. The water heater has a shower holder and also comes with a stove. It also has a large water storage capacity of about 3 gallons.
This stove is used to heat the water in the tank and can also be used for cooking. Hence, you get double the benefit of using this heater.
This best portable hot water shower / heater also comes with a long hose and a shower head that's perfectly designed to purposely save on water. This is obviously one of the best water heaters. So this zodi extreme shower review can help to choose the perfect one indeed.
Pros
Cons
6.

ZODI Outback Gear Hot Tap Travel Shower
This is a self-contain portable water heater that is easy to set up anywhere at any time. You can enjoy instant hot showers with just a push of a button.
The ZODI outback shower uses a battery pump to pump the water, unlike other hot water outdoor showers. It has a push button ignition to activate the machine.
This pump produces 6 volts for great water pressure. A plastic tank acts as the water storage and can carry up to 4 gallons of water which can be heated up to 100 degrees Fahrenheit.With this heater, you do not need to wait for long because it produces instant hot water.
Once water is exhausted from the tank it can be filled in seconds if the pump is connected to a water source. A propane tank connects to a heat source and powers the machine.
This zodi heater or portable heated shower uses a 4D battery to pressurize the water. Once the pump is submerged in the water; a push button is pressed to turn it on.
It has an 8-foot hose which has a shower head that is designed to save on water. Water becomes hot within minutes and you are all set for your hot shower in the wild. That is this one you can use this zodi outback gear hot tap travel water heater as like as portable water heater for shower or portable hot shower no doubt about it.
Pros
Cons
7.

EZ 101 Tankless Water Heater
For this portable water heater, its energy source is a propane tank. It operates with a tankless water heating system this means that heat water directly. That is why this is best portable tankless water heater also.
An advantage of this is that water is only heated on a need basis. Energy is saved unlike heaters with storage tanks where the unused hot water results in wastage of energy.
It has three knobs that control the flame level, flow of water and weather selection. You can select the current weather conditions whether its summer, winter or in between.
This function enables the heater to operate with efficiency depending on the outside weather conditions. During cold seasons such as winter, the heater operates with three burners to heat the water. Warmer seasons such as summer enables only one burner to be lit therefore saving on energy.
You can agree that there is nothing as irritating as a water flow that you cannot control. Sometimes we need minimal flow and other times we need a high flow with this tankless portable water heater.
This portable propane tankless water heater or ez 101 tankless water heater lets you chose the rate of flow of water. Apart from showers, you can also connect your water hose for other hot water use.
Pros
Cons
8.

Coleman H20asis Portable Water Heater
The Coleman Water Heater is compact, portable and it is powered by a propane tank. Its pump is operated using a lithium-ion battery. The pump is connected to a water carrier of 5 gallons which when turned on can produce hot water within the first 30 seconds.
Another great thing about this product is that it can heat water up to a maximum of 125 degrees Fahrenheit. The heater distributes hot water within 30 seconds so you do not have to wait for long.
This coleman hot water heater has a unique flow technology that gives a consistent performance all the time. Even in extreme conditions, you will always get the best performance.
Since it heats water on demand, energy is saved. An LED displays show you the temperature of the water and other features. Once you are done with your shower, you can adjust the shower head and use it to perform other cleaning functions.
This coleman hot water on demand h2oasis portable water heater also has a 6-foot hose which is long and convenient for a wide variety of uses. Who would not want such a water heater?
To add on to all these great features, this coleman portable heater or coleman water heaters or coleman hot water heaters also instant hot water heater can be dismantled to fit in a wire mesh bag that helps you carry it when outdoors. So this coleman portable water heater or coleman hot water on demand review help to find out the best one perfectly.
Pros
Cons
9.

Mr Heater BOSS –XCW20 Basecamp
With the Mr Heater portable heater, you get instant hot water on switching it one. Powered by propane gas, this heater can heat water is a great camping asset.
This battery operated water heater comes with a complete kit which includes carry bag, ac and dc adopters, pump assembly and quick connect shower head.
This battery powered portable heaters can heat water to temperatures above the source water of about 45 degrees Fahrenheit. Additionally, it uses a rechargeable battery to pump water. This battery can run for about 40 minutes before requiring a recharge. Water flows at a rate of 1.18 gallons per minute.
For a longer performance, the boss water heater has a filter system that prevents debris from getting inside the pump.Furthermore, the mr. heater boss-xcw20 has been incorporated into a safety feature that enables detection of overly hot water. The hot water is then cut off to prevent you from getting burned.
Another great feature is the mr heater portable shower digital display. This display allows you to monitor, battery levels and water temperatures. You can be assured that the hot water will not run out in the middle of shower. Last of all this is mr. heater portable water heater or best portable hot water system also.Moreover, it is battery-powered portable water heater or battery powered water heater has easy use facility.
Pros
Cons
10.

Eccotemp L5 Tankless Water Heater with Pump
Are you looking for a portable hot water heater with pump for camping, house use or cabin? The Eccotemp L5 Tankless Water Heater is a great choice that provides instant hot water.
This is a simple to use, great design portable water heater. It has an on and off switch and manual knobs to adjust the temperature of the water.
It uses a stainless steel ignitor hence does not require electricity. The heater operates with great pressure ranging from 20 PSI to 80 PSI. It also operates with a stainless steel hose and is powered by liquid petroleum.
You can use it for a wide variety of outdoor functions like washing your car, boat, taking shower, washing dogs and much more.
You can also choose to add the portable water heater to a pressure washer to achieve better cleaning results. This heater uses batteries so it is convenient to use in areas without electricity.
This water heater is perfect for areas where electrical power is not readily available because of its 2 "D" ignition cell batteries. No doubt this best portable tankless water heater is perfect for you.
Pros
Cons
Watch the Video of Camp Chef Triton 5L hot water heater and shower
Buying Guide The Best Portable Water Heater
Water heaters use different sources of energy as like portable electric water heater . This can be electricity, propane tank or gas. Gas and electricity can be used in a house while a propane tank is more suitable for outside use or inside use that is look like indoor portable water heater.
If you are to use your heater on a camping trip then having an electric heater is not an option. Starting to look for an electric plug in the woods is not logical. With proper handling, a propane tank is great for outdoor use. So you know regarding best camp shower setup perfectly.
Different water heater that is as like as portable water heater propane have different capacities. This ranges from 3litres to over 5 litres. If you know you are going to be using the heater often, then invest in a larger capacity tank. This will enable you to receive a good amount of hot water flow for a longer time as like portable tankless hot water heater. Because it is also tankless water heater for outdoor shower no doubt.
Also, you can even lock the breaker bar in place for continuous uses. Which is a way to prevent you from changing your torque over and over?
Some outdoor heaters have a higher flow of water per minute. Who would not want to finish their shower quicker? Flow rate refers to how much water is delivered within a certain time.
The higher the rate of flow the more water you get within a minute. With a higher flow rate, you are also able to perform other tasks with ease such as filling an outdoor pool, washing your pets or doing laundry.
Depending on the brand, some heaters come with added accompaniments. Why would you spend extra on a shower or a house when you can get that all at a go? Some useful water heaters accompaniments include a hose, a temperature gauge, a shower head a dual function heating system such as a gas burner or help for portable propane heater outdoor.
When buying water heating always look at some of its safety features. A feature such as automatic shut off system.
This propane water heater portable is usually managed by a timer and after your heater has been on for about 20min, it shuts itself off. Such as safety feature can be great especially if you tend to forget to turn off your heater. It can also go a long way in saving energy as like as best camping hot water heater.
We highly recommend getting you one of these portable camping hot water heater that is best portable shower not only that it is also portable hot water shower for camping. Firstly they are convenient since they can be carried around and set up almost anywhere that is why its called portable camping water heater or portable hot water heater for camping also. Secondly, they come with the option to attach a hose hence providing flexible use apart from just showers. They offer great water pressure due to the battery operated pumps or even manual pumps.
Some operate on propane tanks while some use gas burners to heat the water. This means you can be comfortable off the grid where there is a little success to technology or electricity. Moreover, this heater also counted the best rv tankless water heater as well best camping water heater not only that this is also portable water heater camping in the market. So this is also outdoor propane water heater no doubt.
Yes,
Additionally, some of the propane shower heater have been equipped with safety features such as safety turn off, hot eater detection, a temperature gauge among others.For your kind info. when you travel with above heater may you carry additional portable water heater shower or portable propane water heater or portable hot water heater shower for extra benefit for above all propane camp shower reviews.
All these above portable water boiler for travel and features will let you have the camping and outdoor experience of a lifetime. We advise you to stop thinking about getting one and pick something great from our list of the best portable water heaters in 2018 or best portable camping shower in 2018 that is above all portable hot water also.
Moreover, if you want to know more related products then you can check these products for your convenient decision, water heater for hose, products are portable electric water heater, tankless water heater portable, portable water boiler, portable water heater shower, best propane shower, coleman hot water maker, portable tankless propane water heater, water heater for garden hose,
Also Check, portable hot water,coleman portable water heater, camping hot water on demand, coleman hot water heater, hot water on demand camping, portable hot water tank, portable propane water heater shower, mr heater water heater, camping hot water heater, portable electric hot water heater shower system,portable gas water heater, and indoor portable water heater also. Best of luck indeed!!
You May Like These Resources